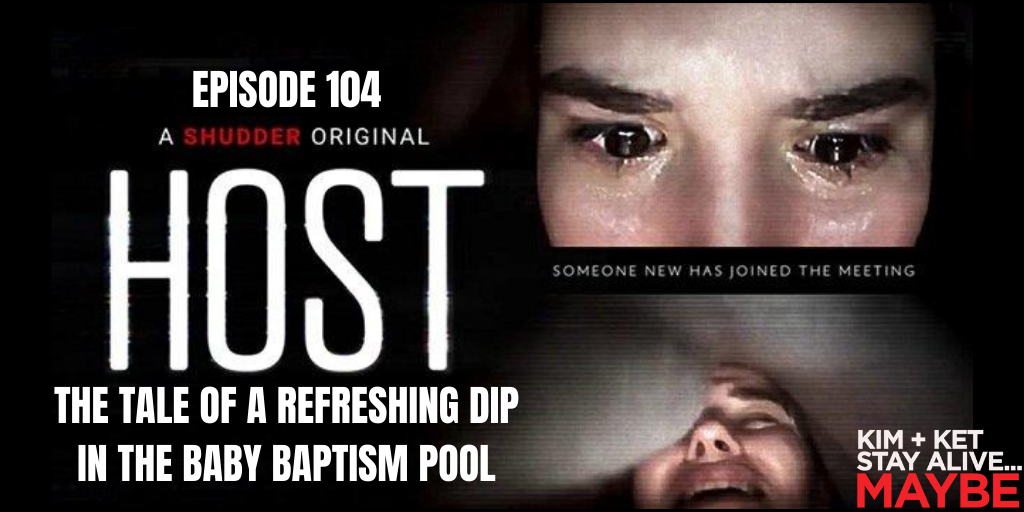 Ket tells Kim about the film taking Shudder by storm, Host (2020), starring  Haley Bishop, Jemma Moore, Emma Louise Webb, Radina Drandova and Caroline Ward. Kim really changes her tune about a Cinq Seance by the end of this one. She can now be found floating in a baptism pool, filled with salt, for the rest of her existence. The girls get into a small tiff when Ketryn learns that Kim has no intention of tattooing her ashes in her when she's gone. Most importantly, we'll learn if Kim will live or die in Host.
Dir. Rob Savage
Writers Gemma Hurley, Rob Savage, Jed Shepherd
New KKSAM Facebook Discussion Group!!
"Sammies Stay Alive... Maybe"
https://www.facebook.com/groups/kksampodcast
SCREEN - A Quarantine Horror Short Film
Get acquainted with all things KIM & KET at www.kimandketstayalive.com 
Chat with the girls at kksampodcast@gmail.com
Peep the girls on Instagram:  @kksampodcast
Twit the girls on Twitter:  @kksampodcast
Book the face of the girls on Facebook:  @kksampodcast
Wear the shirts of the girls from the MERCH Store:  kimandketstayalivemaybe.threadless.com
Support the girls on PATREON at:  www.patreon.com/kimandketstayalivemaybe
Ok we'll stop now.
Thanks for listening!
xo and #StayAlive,
K&K
This episode is sponsored by EL YUCATECO HOT SAUCE
El Yucateco is EVERYONE'S hot sauce - Currently El Yucateco has 5 habanero based sauces: Red, Green, Caribbean, Black Label Reserve and XXXtra Hot Kutbil-lk. We also have a Jalapeno Hot Sauce and a Chipotle Hot Sauce.  #KingofFlavor
We're now members of the PodBelly Podcast Network!  Check us out and other cool pods of all genres at www.PodBelly.com.